New features in the PRO versionPrint
Two additional settings and design options are now available for the Render Styles. The Render Styles dialog contains the new tab Effects. Here you can adjust the Brightness, Contrast and Saturation settings for your Render Style.
Or would you like to choose a new color scheme for your planning? Select a variety of color tones, vary the ways they interact with just a few clicks and view the result in real time in your viewport.
A range of color suggestions are included and complete the package. You can apply these after clicking on the Star button on the Effects tab.
The Help section contains a comprehensive guide to the use of Render Styles: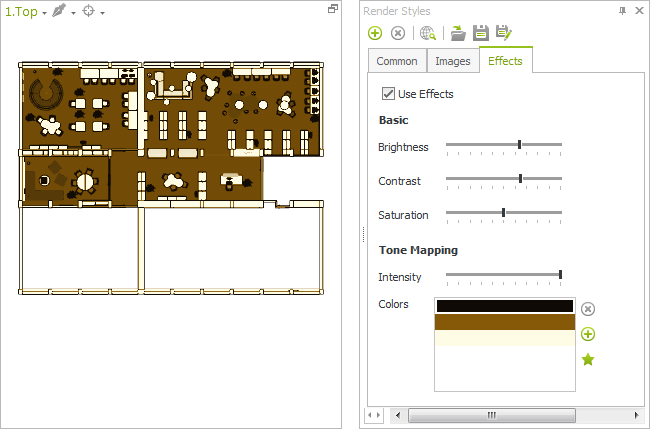 Enhanced Render Styles: example with sepia color scheme
The Snapshot Tool: Create individual images of articles
The Snapshot Tool allows you to create your own high quality images of articles from any perspective you wish. You can find the tools in the Presentation tab in the Media group.
Generate product images for articles and now also for user articles and set articles. The images are used in the Article list and exported automatically for pCon.basket. However, you can also save and use them for presentations, text documents and other purposes.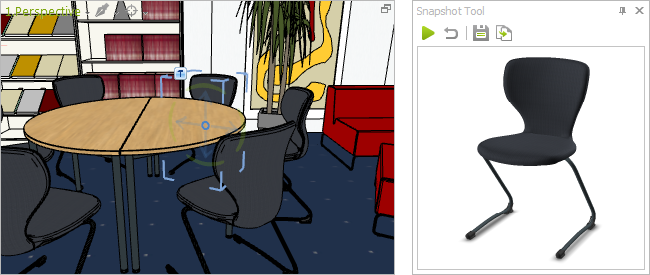 Article image created with the new Snapshot Tool
Assigning selections from planning to a layout
It is now even easier to design your professionally printed pages. Objects selected in the planning can easily be transferred directly to a Viewport in the Layout area. Simply select the elements and 3D models in the planning area that you wish to transfer to the layout. Next open the context menu and via Show in Layout Viewport click the entry that corresponds to the Viewport in which you wish to display the selection.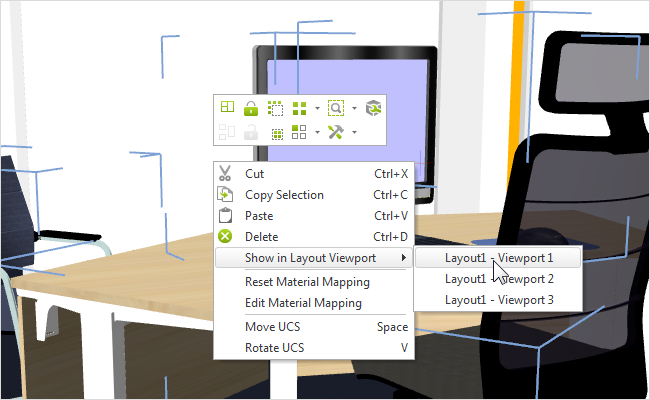 New option: Show selection in Layout Viewport
Improved Multi Content Pictures
Multi Content Pictures from pCon.planner PRO can be enriched with further information. In addition to the product name, manufacturer and series you can now save much more information about the image in pCon.planner – for example, a preview image, long text or price. After uploading to Impress, you decide which information should be displayed for the Multi Content Picture.
With the new interface, the functions that used to be found in the Configuration tab have been moved to the Article Toolbox.

You can find it under the corresponding logo on the Toolbar (right-hand side).

Position the Article Toolbox next to your planning area to ensure that all the functions for working with commercial data are just a click away. This minimizes the need to switch between different tabs.

Article-Toolbox
Improved FBX and Collada export
Display quality has been improved for FBX exports. And there are also new features available for exporting Collada files including additional setting options for exporting edges and textures.