New Features in pCon.planner 8.6Print
Sharing Media Content
Sharing AR content via Impress
From now on, you use AR content created in pCon.planner with our presentation service Impress. AR or Aug-mented Reality stands for the enrichment of your real surroundings with virtual elements via your smartphone camera.
Simply select furniture in your drawing and click the Share AR button in the Presentation tab to create an AR file in IAR format. The best part about this: the file can be used on AR able Android as well as iOS devices.
The IAR file is shared using a QR code or a shared link via Impress. Share your content directly from pCon.planner – without the need to use an external browser.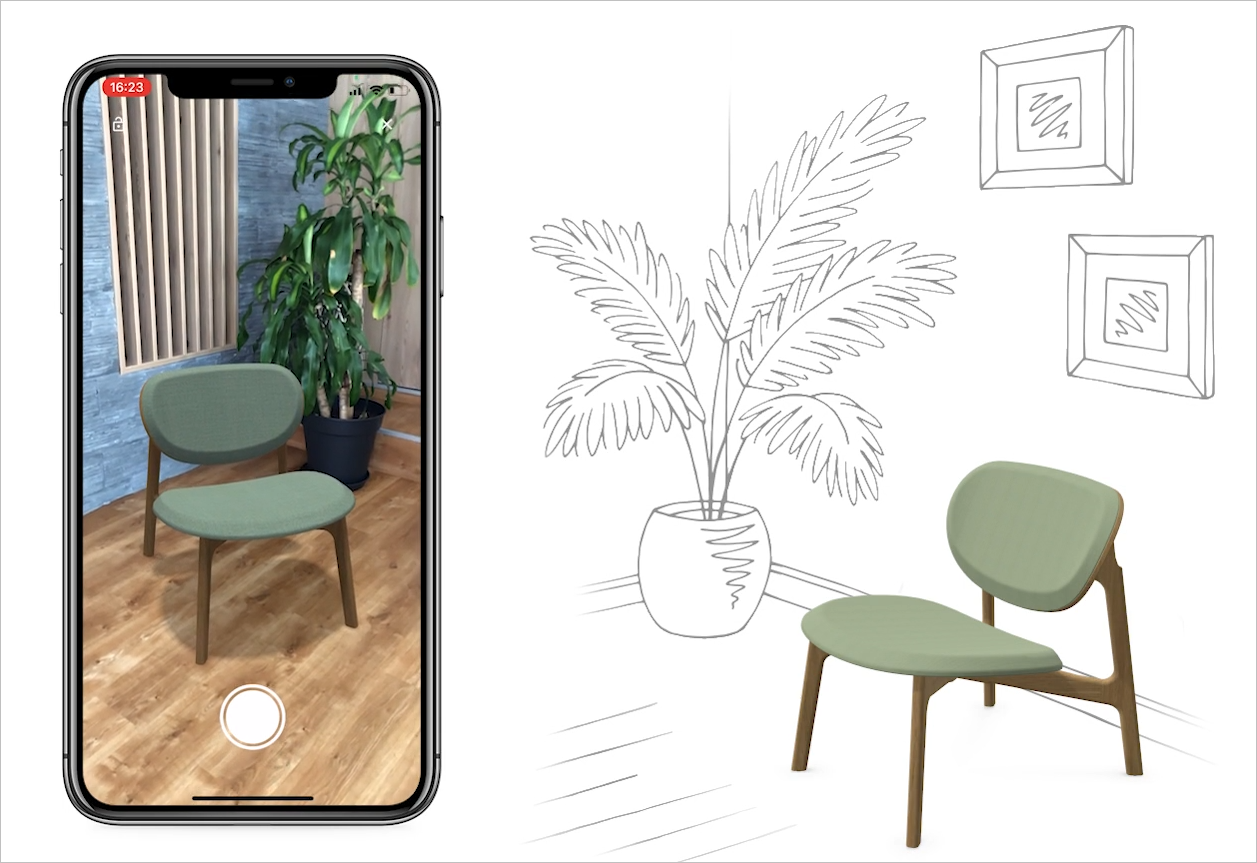 Manufacturer: Zeitraum
Share Button: Improved Workflow
The Share button on the right side of the ribbon now makes sharing your content even easier. Use the drop-down menu to choose whether you want to share
•3D models or
•AR content.
For both variants, a QR code and a shareable link are generated that you can share or use for presentation pur-poses. Here, too, you share the link or QR code conveniently directly from pCon.planner.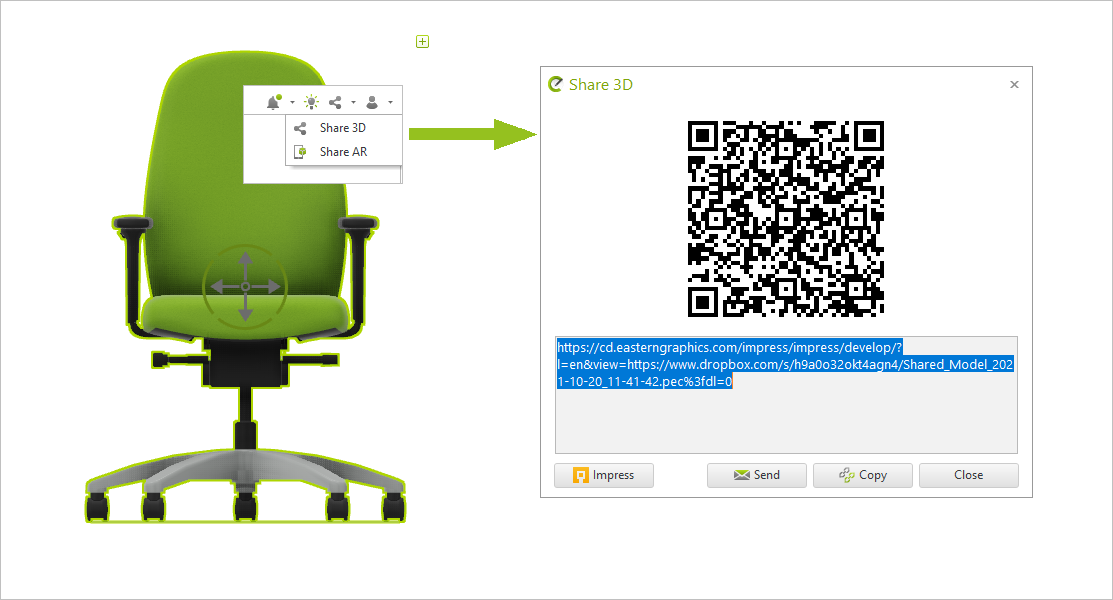 New Features for Properties Editor
New functions have been added to the Properties Editor: Use the View item (hamburger menu) to specify which pieces of article information are displayed. For example, it is possible to show or hide the description in the name of the article (Show Article Text).
For complex articles, you can display an article tree in the Properties Editor that contains all components.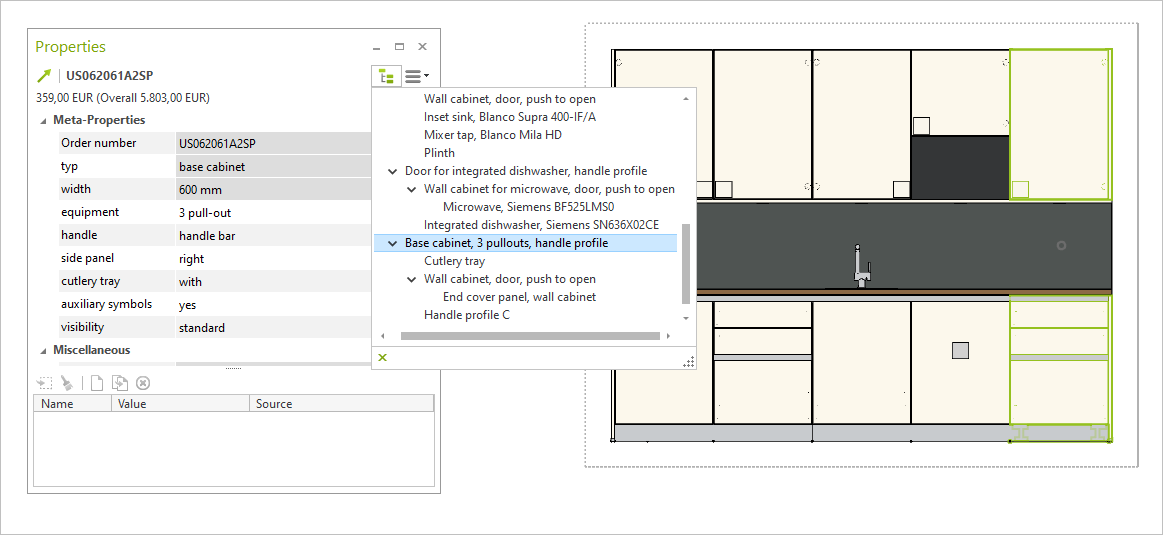 Manufacturer: Assmann
When selecting a child article or a component, the total price of the complex configuration and compound arti-cles is always displayed in addition. Prices with a value of zero are hidden.
The new hamburger menu grants easy access to features formerly hidden in the context menu.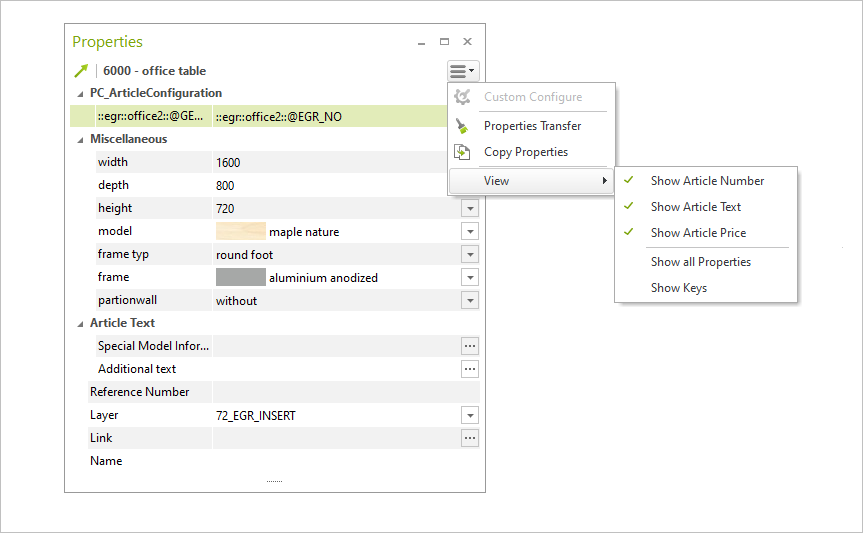 The design of the Properties Editor has been updated and simplified, as well.
Rendering
With pCon.planner 8.6 we have further improved the denoising for photorealistic renderings. It now also works in transparent image areas: For example, your individual background images (Environment settings) are taken into account during denoising and therefore appear even more authentic and clear.
The Advanced Reflections and Advanced Ambient Lighting functions are now active by default during image rendering and are therefore no longer part of the user interface. This allows you to calculate high quality images in a more concise Image dialog.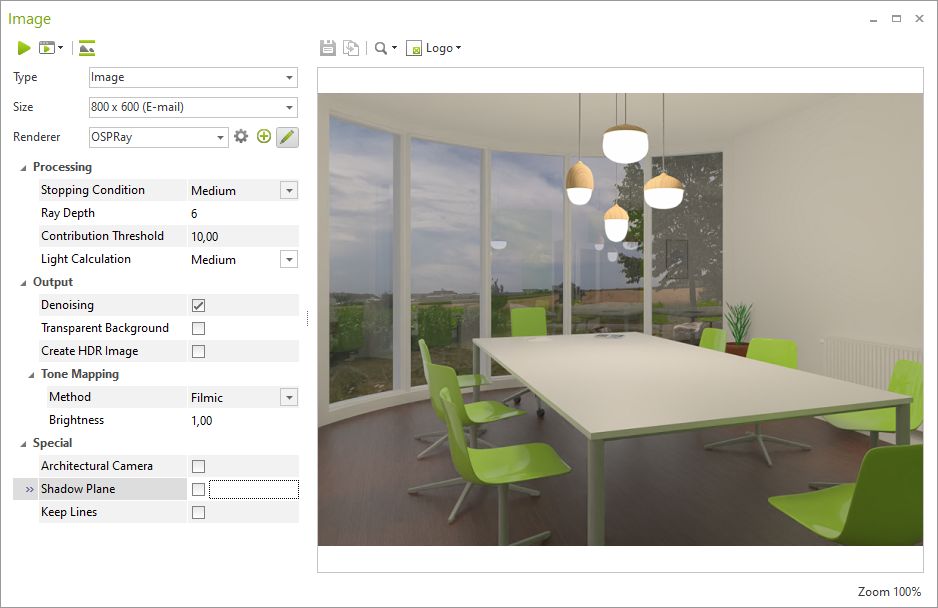 Performance of the real-time rendering has been improved: the display is notably faster in some scenarios even with older hardware.
Tools: 2D Projection (pCon.planner PRO)
Start 2D Projection and use the context menu to decide whether to create your projection in Wireframe, Outline or Filled mode.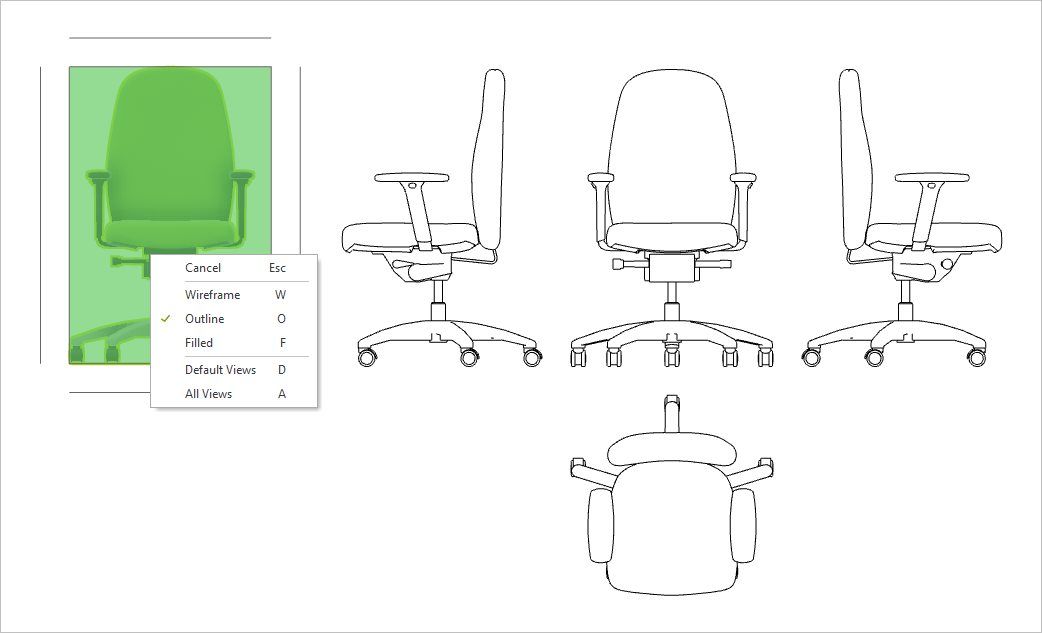 Moreover, the arrangement of the projections generated with 2D Projection complies with the European convention as of pCon.planner 8.6.
The following adjustments have been made to the Product Information window:
•When displaying a sub-article, the total price of the complex configuration is also shown.
•Videos and PDFs are displayed in the internal browser of pCon.planner (internal browser based on Microsoft Edge).
Starting with pCon.planner 8.6, you can open Trimble's 3D Warehouse directly in the internal browser again to load 3D objects straight into your planning. You need a Trimble account to download models.
Layout Area: Integration of Links (pCon.planner PRO)
Images, viewports, drawing elements or texts – use the Properties Editor to insert links for all kinds of elements on your Layout pages.
Exported PDFs of your pages adopt this link as an interactive element.

Import and Export Format
•pCon.planner 8.6 supports Sketchup 2021.1.
•Support for WebP image format.
•Improved PDF import: This includes, for example, extended support for special characters in layer names and improvements in the import of lists.
•3DS texture files: Improved support for texture names with special characters.
•FBX and DAE export: Enhanced support for element names, tree structures are preserved, export of meshes is improved.
•Removing 3D geometries from drawings for exporting 2D plans to DWG format (option in DWG Export dialog) now works even more reliably.
•The Excel export now includes special article text and additional text for your articles, if required.
•Export of vector graphics has become more accurate with pCon.planner 8.6.
Further Improvements
Catalog Settings (pCon.planner PRO)
The language settings for your product catalogs are now to be found in the Miscellaneous tab of the Catalog Settings.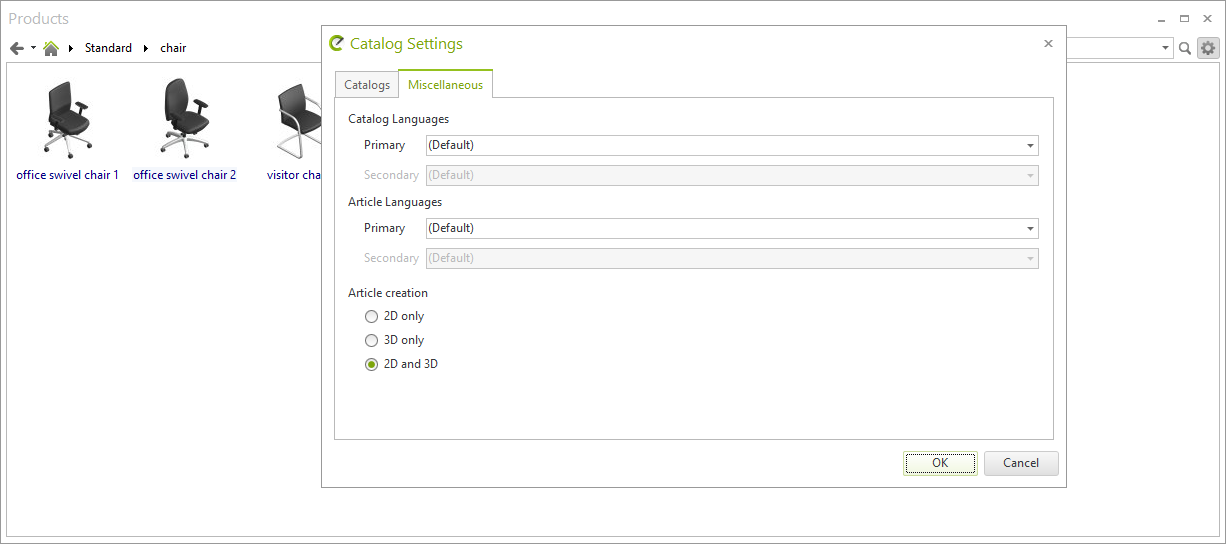 Advanced Support for pCon.login (pCon.planner PRO)
pCon.planner 8.6 is compatible with the current version of pCon.login. In addition, we have added the option to take over a license from another session to make it easier for you to switch from office to home office.
In the pCon.planner system information (Help tab) there is, among other things, the license type and information about the user account.
Control the playback of animations in the dynamic Animation tab using the new Loop function: Here you specify whether your animation should be shown once or in a continuous loop.