New Features in pCon.planner 8.5Print
Support for pCon.login (Pro and ME)
While pCon.planner continues to support licensing via EasternGraphics Safenet License Manager, we integrated authorization with pCon.login. pCon.login is your user account for a growing number of pCon applications and services.
Connecting pCon.planner and pCon.login is not only an alternative way to utilize your pCon.planner license – it will also help you make better use of the Product Information features: Additional content can be retrieved in the Product Information window when authorized via pCon.login.
This is how you connect pCon.planner 8.5 and pCon.login:
•pCon.planner already licensed via EasternGraphics Safenet License Manager: Click the

icon in the upper right corner of pCon.planner and select Login from the menu. The pCon.login page will open. Enter your pCon.login user account data. pCon.planner will then automatically obtain its license from pCon.login.
•New license/pCon.planner not licensed via EasternGraphics Safenet License Manager: Enter your pCon.login user data upon opening pCon.planner.

If you are authorized with pCon.login, you can access your license information by clicking your user name under the

icon. This will lead you directly to pCon.login, where you can visit the Licenses page for detailed license information.
Image Rendering
Renderings Finished Earlier with OSPRay
A new Light Calculation property is now available for OSPRay (Image dialog, Presentation tab). This allows faster renderings with reduced precision in lighting calculation.
How to utilize Light Calculation: Open the Image dialog, Presentation tab. Make your settings for rendering. The Light Calculation option is located in the Processing section of the Image dialog. By choosing one of the grades – Truncated, Simple, Medium, High or Maximum, you define how many light sources in the planning are calculated in each rendering pass, with Truncated using only one light source per pass and Maximum taking all light sources in your scene into account for each pass.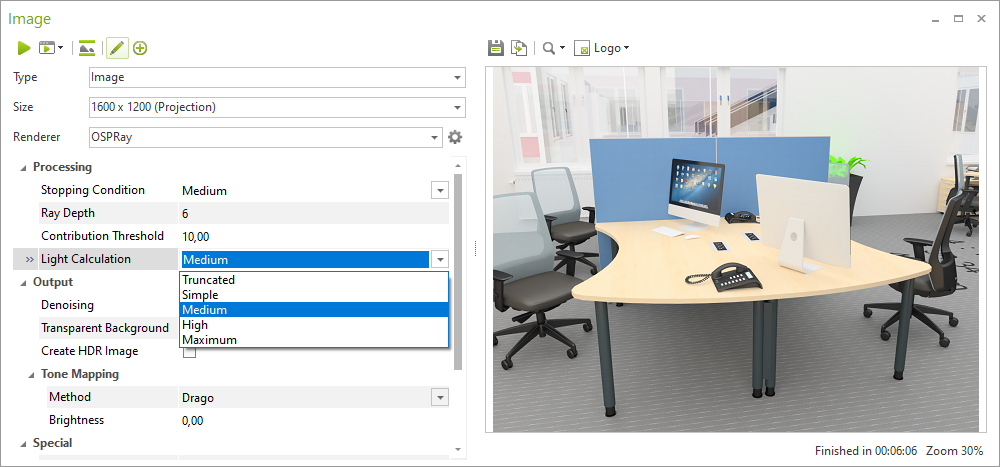 Please note that the effect of the Light Calculation setting depends on the complexity of your drawing and the individual light situation to be calculated.
If no further improvement is expected when rendering with OSPRay, the rendering will abort earlier.
Furthermore, the denoising quality is improved: With the help of improved sharpness of details, the images become less blurry overall, with fewer noisy artifacts and more convincing in quality. Additionally, there is a (slightly) improved performance and lower memory consumption.
To leave lasting impressions with your product images, you have a new option now. A new rendering output type is available: Multi Content Panorama (.epan). Multi Content Panoramas are panoramic images enriched with information on price or manufacturer. These pieces of information are displayed after a click on an article, set article or user article in the image.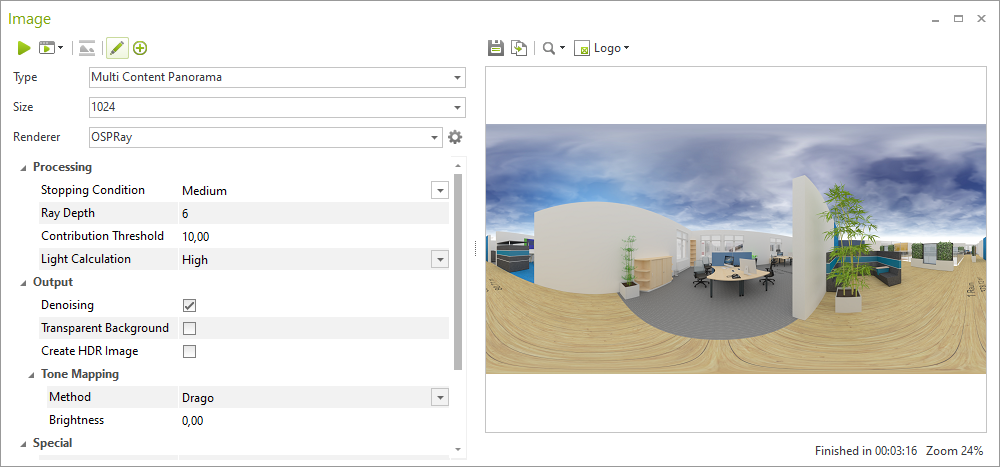 In pCon.planner 8.5, the OpenGL rendering has been revised and modernized. Quick Rendering now is activated by default. To change this, open the Render Settings dialog (View tab).

Quick Rendering enhances the performance during navigation and in complex plannings by disabling ambient occlusion and blooming as well as by reducing anti-aliasing and other parameters.
For photometric light sources: Instead of default intensity, the luminous flux value in lumen provided by the light source is now used. It can be viewed via the Properties editor. Additionally, there are shown various information provided in the photometric data file.
Please note that the additional information for light sources are only displayed for newly inserted lights.
For regular lighting elements: The Intensity has been replaced by Luminosity, with the setting remaining the same.
Tools
New 2D Projection (pCon.planner Pro)
The new 2D Projection tool allows you to select and display a vectorized single view of the object. There are several possibilities: Interactively choose a side or multiple views - Default (Top, Front, Left, Right) or all sides at once by context menu option.
The tool can be found on the Edit tab, Tools group.

1.Select an object in your drawing and click 2D Projection to start the process.

2.Click one of the planes that are projected around your object. Each plane signifies a possible projection.

3.The projection is automatically generated and will be attached to your cursor, allowing to place it.

4.Place your projection at your desired place in the drawing and confirm with a click on the left mouse button.

Additionally, it is possible to generate more than one projection at once: Select your object and click the 2D Projection button. Open the context menu with a right-click on the mouse and select either Default Views or All Views. The views will be generated as vector graphic and can be placed freely.
The arrangement tool now also displays the size of the base area (read-only property in the Properties editor).
Another highlight in the new pCon.planner 8.5 is the reduced loading time, especially for large DWGs. Loading times can be reduced by up to 50%. In some cases the DWGs are loading even faster. At the same time, the performance of creating (local) backups from network paths was improved.
Managing and Sharing Content
Sharing for a bigger number of customers: pCon.planner 8.5 supports Microsoft SharePoint accounts, including Microsoft SharePoint for Business.
The Paste-action has been integrated, allowing you to insert files copied from your local file system or else-where into a new directory via the Media Browser.
The Media Browser now also supports drag&drop for USDZ and GLTF formats.
The catalog info now shows the latest update of manufacturer and program. To retrieve the information, open the Products catalog and click the settings (upper right corner).

The Yafaray renderer is obsolete and has therefore been removed in pCon.planner 8.5. We recommend using the OSPRay renderer and its enormous creative potential instead.